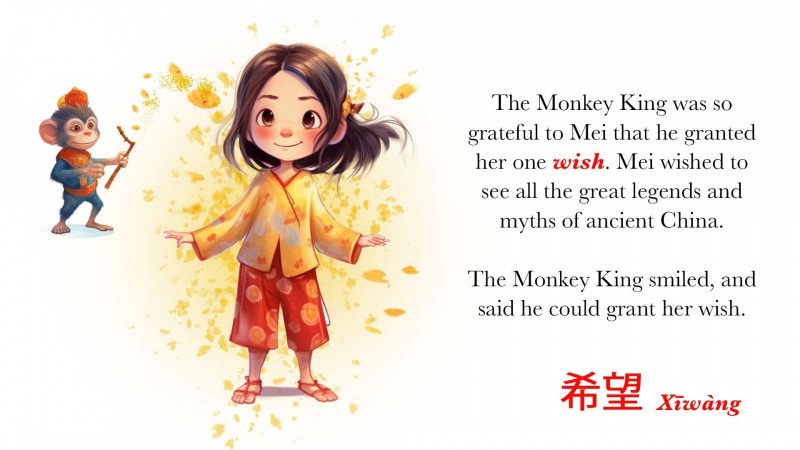 My Children's Book: MEI AND THE MONKEY KING
Who knows a fantastic kids' publisher?
‌
As a parent to my six-year-old daughter Sophia, I spent years searching for picture books that featured Chinese and little girl characters as positive role models. To my surprise, I discovered a lack of such representation.
‌
This year, I decided to take matters into my own hands. I wanted to write a book that I could read to my own Chinese-American daughter.
‌
Introducing "Mei and the Monkey King" – a remarkable children's book born out of a heartfelt mission to provide diverse role models for young readers.
‌
I poured my heart and soul into creating "Mei and the Monkey King", a children's book that intertwines a fun adventure story with ancient Chinese myths, and a dash of cultural learning.
‌
Allow me to introduce you to Mei, an inquisitive six-year-old Chinese girl, who embarks on an enthralling journey through the magical world of ancient China. The delightful story not only entertains young readers but also imparts cultural knowledge through engaging and accessible storytelling.
‌
While I'm open to the possibility of self-publishing on Kickstarter or Amazon, I'm reaching out to any of my network that is connected to the kids publishing world. I strongly believe that there is a need for books like "Mei and the Monkey King" – books that embrace diversity, represent our global community, and inspire young minds to dream big.
‌
When you look at the sample image below, you'll witness the care and craftsmanship put into this project. I want to put a book out in the world that I would be proud to read to my Chinese-American daughter, and give other little Asian girls a role model they can look up to.
Posted: 2023-06-15
Contact
If you are interested in a new project, a fun collaboration, or a reason to get a beer, don't hesitate to send an email.